About us > Doctoral Researchers > Hannes Weidmann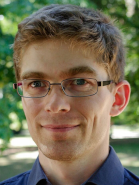 Contact
Sigmund Freud Institute
Myliusstraße 20
60323 Frankfurt am Main
Room U.10
Tel. 069 971204-129
Fax 069 971204-4
News & Events
Vortrag (online) am 27.01.2021 um 18 Uhr zum Thema "Psychoanalytische Perspektiven auf Trauma und Traumafolgen von Menschen mit Fluchterfahrung" von Irina Dannert und Ina Kulić, moderiert von Tassilo Schuster
Vortrag (online) am 11.02.2021 um 11.30 Uhr zum Thema "Bildungswege und biographische Erfahrungen im Kontext von Flucht und Migration. Methodologische Reflexionen zur Praxis der Biographieforschung" mit der Referentin Prof. Dr. Bettina Dausien. Anmeldung hier.
2013-2019
student and scientific assistant; qualified tutor, participation in the research project "Das vermessene Leben".
2016-2018
Study of MA sociology at the Goethe-University Frankfurt. Study focus: qualitative social research, psychoanalytical social psychology and critical theory. Scholar of the Deutschlandstipendium at the Goethe University.
2011-2016
Study of BA Social Sciences at the Philipps-University Marburg. Study focus: general sociology, political science and philosophy.
Member of the Gesellschaft für psychoanalytische Sozialpsychologie (GfpS)
Psychosocial consequences of migration
Importance of religiosity in (adolescent) life practice
Deep hermeneutics and objective hermeneutics